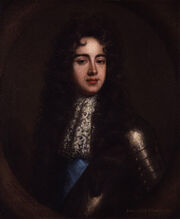 Sir James Scott, 1st Duke of Monmouth, 1st Duke of Buccleuch KG PC (9 April 1649 – 15 July 1685), was an English nobleman. Originally called James Crofts or James Fitzroy, he was born in Rotterdam in the Netherlands, the eldest illegitimate son of Charles II and his mistress, Lucy Walter. Monmouth was executed in 1685 after making an unsuccessful attempt to depose his uncle, King James II, commonly called the Monmouth Rebellion. Declaring himself the legitimate King, Monmouth attempted to capitalise on his position as the son (albeit illegitimate) of Charles II, and his Protestantism, in opposition to James, who was Catholic. His full titles were Duke of Monmouth and Earl of Doncaster, in the County of York (1663), Earl of Dalkeith (1663), Baron Scott of Tindale, in the County of Northumberland (1663) and Baron Scott of Whitchester and Eskdale (1663).
[edit] Parentage and early lifeEdit
He was born in Rotterdam in the Netherlands, to Lucy Walter, who had joined her lover, Prince Charles, son of King Charles I, in continental exile after his father's execution. Charles acknowledged the child as his, the eldest of 14 children fathered by him outside of wedlock. However, it is not at all certain that Charles was the natural father of the later Duke of Monmouth. According to biographical research of Hugh Noel Williams, Charles had not arrived at The Hague until the middle of September 1648 - seven months before the child's birth - while Lucy Walters, herself a woman of bad reputation, had in the summer of 1648 been mistress of Colonel Robert Sidney, a younger son of the Earl of Leicester.[1] Serious doubts about Monmouth's real paternity arose within days of his birth and, when Monmouth grew to manhood, contemporaries' observed[citation needed] that he bore a much stronger resemblance to Robert Sidney than he did to his reputed father, although somewhat resembling him. If Monmouth was Sidney's son, then his uncles included Algernon Sydney and Henry Sydney, and an ancestral uncle had been the poet Philip Sidney.
As an illegitimate son, the child was not in line for throne, though there were rumours that Charles and Lucy did marry secretly.[2] Monmouth later himself always claimed his parents were married, and that he possessed their marriage lines, but never produced them.[3] Charles, as King, later testified in writing to his Council that he had never been married to anyone except his queen,[4] the Portuguese princess, Catherine of Braganza, whom he married after his return to England. By this time Lucy Walter was dead.
The infant was entrusted to the care of William Crofts, 1st Baron Crofts, who passed him off as his nephew and was therefore in his early years called James Crofts.
[edit] Officer and commanderEdit
[1][2]James Scott commanding the English against the Dutch in 1672, Jan Wyck.In 1663, at the age of 14, shortly after having been brought to England, James was created Duke of Monmouth with the subsidiary titles of Earl of Doncaster and Baron Scott of Tynedale, all three in the Peerage of England, and married off to the wealthy Anne Scott, 4th Countess of Buccleuch. James took his wife's name upon marriage.[3] The day after his marriage, they were made Duke and Duchess of Buccleuch. Although he showed no aptitude for government, Monmouth, as he continued to be called, was popular, particularly since he was a Protestant, whereas the official heir to the throne, the King's brother James, Duke of York, openly converted to Catholicism in 1668.
In 1665, at the age of 16, Monmouth served in the English fleet under his uncle the Duke of York in the Second Anglo-Dutch War. Later in the war, he returned to England to assume his first military command as commander of a troop of cavalry. In 1669 he was made colonel of the King's Life Guards, one of the most senior appointments in the army. When the Captain General of the army, George Monck, 1st Duke of Albemarle, died in 1670, Monmouth became the senior officer in the army at the age of 21. At the outbreak of the Third Anglo-Dutch War in 1672, a brigade of 6,000 British troops was sent to serve as part of the French army (in return for money paid to King Charles), with Monmouth as its commander. In the campaign of 1673 and in particular at the Siege of Maastricht, Monmouth gained a considerable reputation as one of Britain's finest soldiers. He became Chancellor of Cambridge University in 1674.[5]
In 1678 Monmouth was commander of the Anglo-Dutch brigade, now fighting for the United Provinces against the French. He distinguished himself at the battle of St Denis, further increasing his reputation. The following year, after his return to Britain, he commanded the small army raised to put down the rebellion of the Scottish Covenanters. Despite being heavily outnumbered, he decisively defeated the (admittedly poorly equipped) Covenanter rebels at the Battle of Bothwell Bridge on 22 June 1679. By this time it was becoming apparent that Charles II would have no legitimate heir, and Monmouth was regarded by many as preferable to the Duke of York. [3][4]Monmouth's execution on Tower Hill, 15 July 1685 (O.S), in a popular print.===[edit] Rebellion and execution=== Main article: Monmouth RebellionFollowing the discovery of the so-called Rye House Plot in 1683, Monmouth was obliged to go into exile in the Dutch United Provinces (Violet Wyndham gives the date of his exile as 1679). On his father's death in 1685 Monmouth led the "Monmouth Rebellion", landing with three ships at Lyme Regis in Dorset in an attempt to take the throne from his uncle. He declared himself King and was crowned in Chard[6] and was the subject of more coronations in Taunton 20 June 1685 and Bridgwater. On 6 July 1685 the two armies met at the Battle of Sedgemoor, the second to last fought on English soil. Monmouth's makeshift force could not compete with the regular army, and was soundly defeated. Monmouth himself was captured and arrested in Dorset. Following this, Parliament passed an Act of Attainder, 1 Ja. II c. 2.[7] Despite begging for mercy, he was executed by Jack Ketch on 15 July 1685, on Tower Hill. It is said that it took multiple blows of the axe to sever his head (though some sources say it took eight blows, the official Tower of London website says it took five blows,[8] while Charles Spencer, in his book Blenheim, claims it was seven[9]). One of his co-conspirators was Thomas Chamberlain of Oddington, from the family of Tankerville, Gloucestershire, and Barons of Wyckham: in lieu of beheading he was transported to Virginia and there served in the Army.
His dukedoms of Monmouth and Buccleuch were forfeited, but the subsidiary titles of the dukedom of Monmouth were later restored to the Duke of Buccleuch.
[edit] Popular legendsEdit
According to legend,[10] a portrait was painted of Monmouth after his execution. The tradition states that it was realised after the execution that there was no official portrait of the Duke—for a son of a King, and someone who had claimed the throne, albeit in vain, this was unheard of. So his body was exhumed, the head stitched back on the body, and it was sat for its portrait to be painted. However, there are at least two formal portraits of Monmouth[11] tentatively dated to before his death currently in the National Portrait Gallery in London, and another painting once identified with Monmouth[12] that shows a sleeping or dead man that could have given rise to the story. The oval portrait shown above is dated by the NPG to circa 1683 and depicts James in military garb, wearing a blue officer's sash and light armor. The battle scene portrait is thought to depict James at the siege of Maastricht and is credited to artist Jan Wyck, circa 1675.
One of the many theories about the identity of The Man in the Iron Mask is that he was Monmouth. It seems to be based on the reasoning that James II would not execute his own nephew, so someone else was executed, and James II arranged for Monmouth to be taken to France and put in the custody of his cousin Louis XIV of France.[13] However, the earliest French records referring to The Man In The Iron Mask date back to 1669, years before Monmouth's arrest.
His marriage to Anne Scott resulted in the birth of eight children:
His affair with mistress Eleanor Needham, daughter of Sir Robert Needham of Lambeth resulted in the birth of three children:
Toward the end of his life he conducted an affair with Henrietta, Baroness Wentworth.
[edit] Duke of Monmouth in fictionEdit
[show]Ancestors of James Scott, 1st Duke of Monmouth
^ Williams, Rival Sultanas, 1915.
^ "Welsh Biography Online". Yba.llgc.org.uk. http://yba.llgc.org.uk/en/s-WALT-LUC-1630.html. Retrieved 2009-10-10.
^ Fraser, Antonia (1979). Royal Charles: Charles II and the Restoration. New York: Dell Publishing Co., Inc. ISBN 0440569005.
^ Monmouth, James, Duke of Monmouth in Venn, J. & J. A., Alumni Cantabrigienses, Cambridge University Press, 10 vols, 1922–1958.
^ chardnet (2005-06-26). "Chard website". Wessex.me.uk. http://www.wessex.me.uk/chardpics.htm. Retrieved 2009-10-10.
^ 'James the Second, 1685: An Act to Attaint James Duke of Monmouth of High-Treason. (Chapter II. Rot. Parl. nu. 2.)', Statutes of the Realm: volume 6: 1685-94 (1819), p. 2. Date accessed: 16 February 2007.
^ "Tower of London: Fact sheet" (PDF). http://hrp.org.uk/Resources/Prisoners.pdf. Retrieved 2009-10-10.
^ Spencer, Charles, Blenheim, Chapter 3: John Churchill, p.54: "Monmouth had a particularly grisly end, the executioner's axe striking seven times before his head severed"
^ ""The People's Almanac" series of books cites this story". Trivia-library.com. http://www.trivia-library.com/b/tourist-sights-portrait-of-the-duke-of-monmouth-in-england.htm. Retrieved 2009-10-10.
^ "National Portrait Gallery NPG 151". Npg.org.uk. http://www.npg.org.uk/live/search/portrait.asp?LinkID=mp03129&rNo=4&role=sit. Retrieved 2009-10-10.
^ "National Portrait Gallery NPG 1566". Npg.org.uk. http://www.npg.org.uk/live/search/portrait.asp?LinkID=mp03129&rNo=0&role=sit. Retrieved 2009-10-10.
^ Shaw, Samuel, "Duke of Monmouth: Man in the Iron Mask" in Oxford Journals (Oxford, 1870) Vol s4-V, No 120.
^ Martin Hyde: The Duke's Messenger by John Masefield. Gutenberg text
[edit] Further readingEdit
[edit] External linksEdit